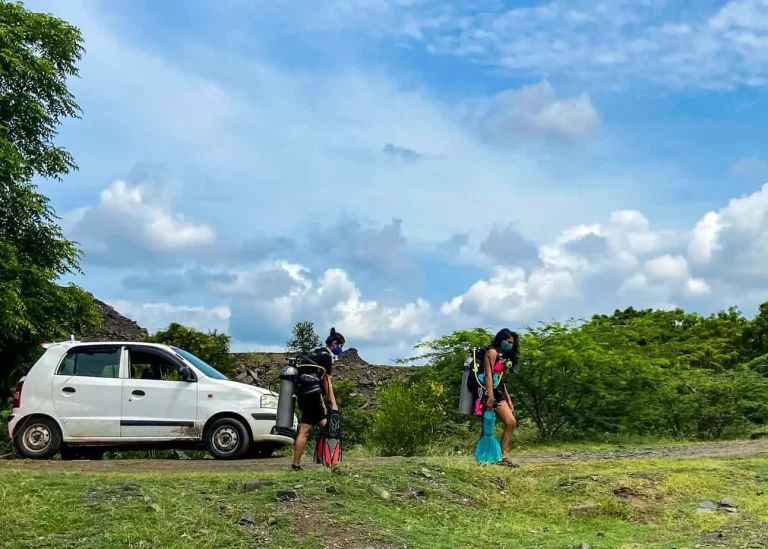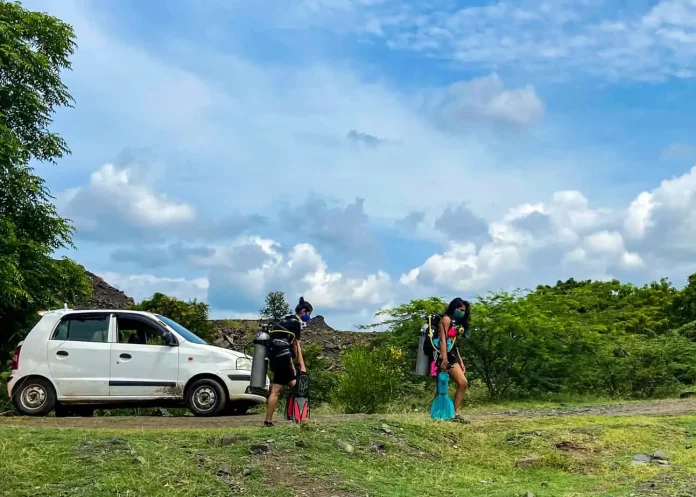 Scuba diving during COVID 19 might sound impossible. But to all the divers and soon-to-be divers out there, we come bearing great news—SCUBA diving during this uncertain COVID19 time is possible! It can be done sanitarily and hygienically even now and have the utmost fun possible. The Temple team at Pondicherry have enforced and continue to enforce various preventive measures, to ensure that you dive with us safely. If you are not convinced, how about you peruse further and dive into what is being done?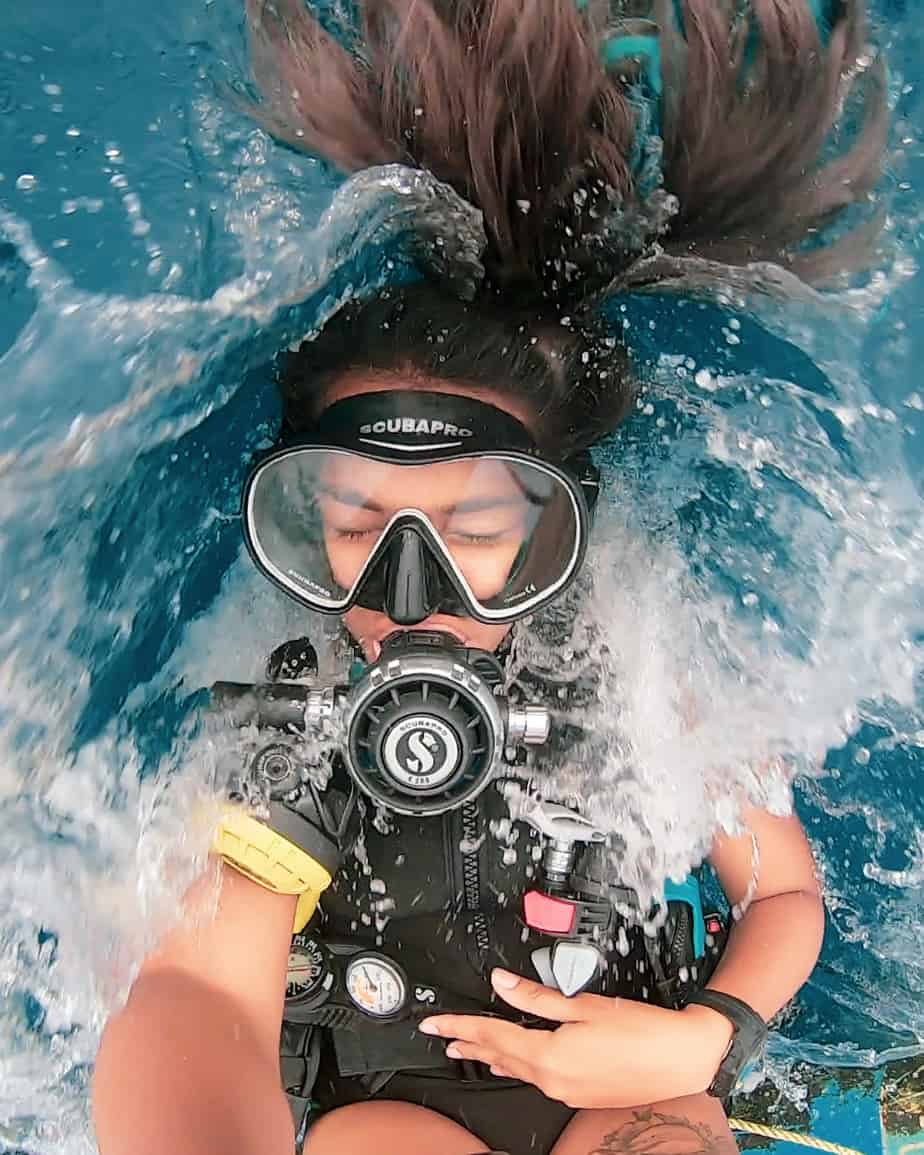 WHAT IS TEMPLE DOING ABOUT COVID-19 ?
Your well-being and safety are always a top priority for us, even more so now than ever. So to show our commitment, we have started an initiative called "TempleCares" because we do! Let's look at it step-by-step.
1. Protection for Staff and Customers
Our goal is to inform ourselves as much as possible, to take care of you and guide you properly. Hence, we comply with the World Health Organisation, Divers Alert Network and PADI regulations for our everyday operations. Our staff have also completed the comprehensive Airborne Pathogen course from First Response Training International, which has allowed to create a safer workplace for you and us.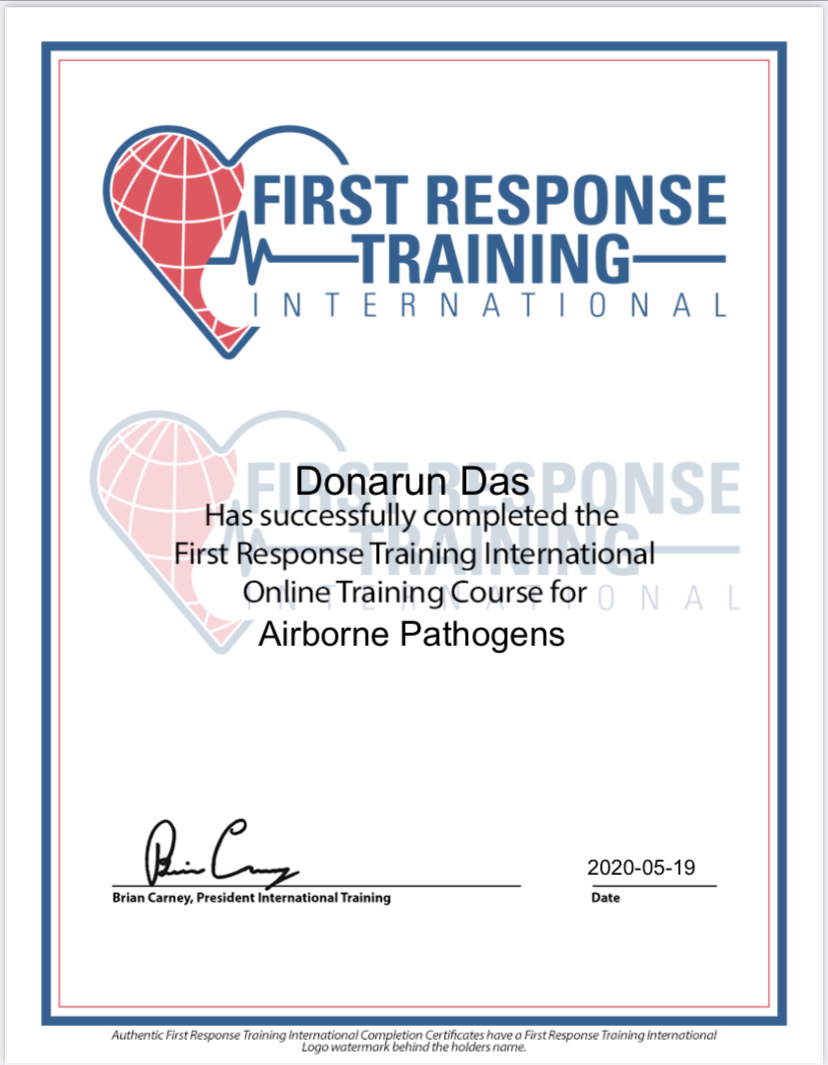 Scuba Diving During COVID and social distancing
There is always a 6 feet distance between each other, be it during classroom sessions or at the dive centre in general. We also only allow staff to enter the Equipment Rental area to reduce risks.
Protective Barriers
The virus enters our body easily through our face, so by now, we know how important masks are and even have our own kind! Gloves are of great help too, as they minimize virus transmission from surfaces. But you must know how to remove them properly, so ask us how to use gloves safely!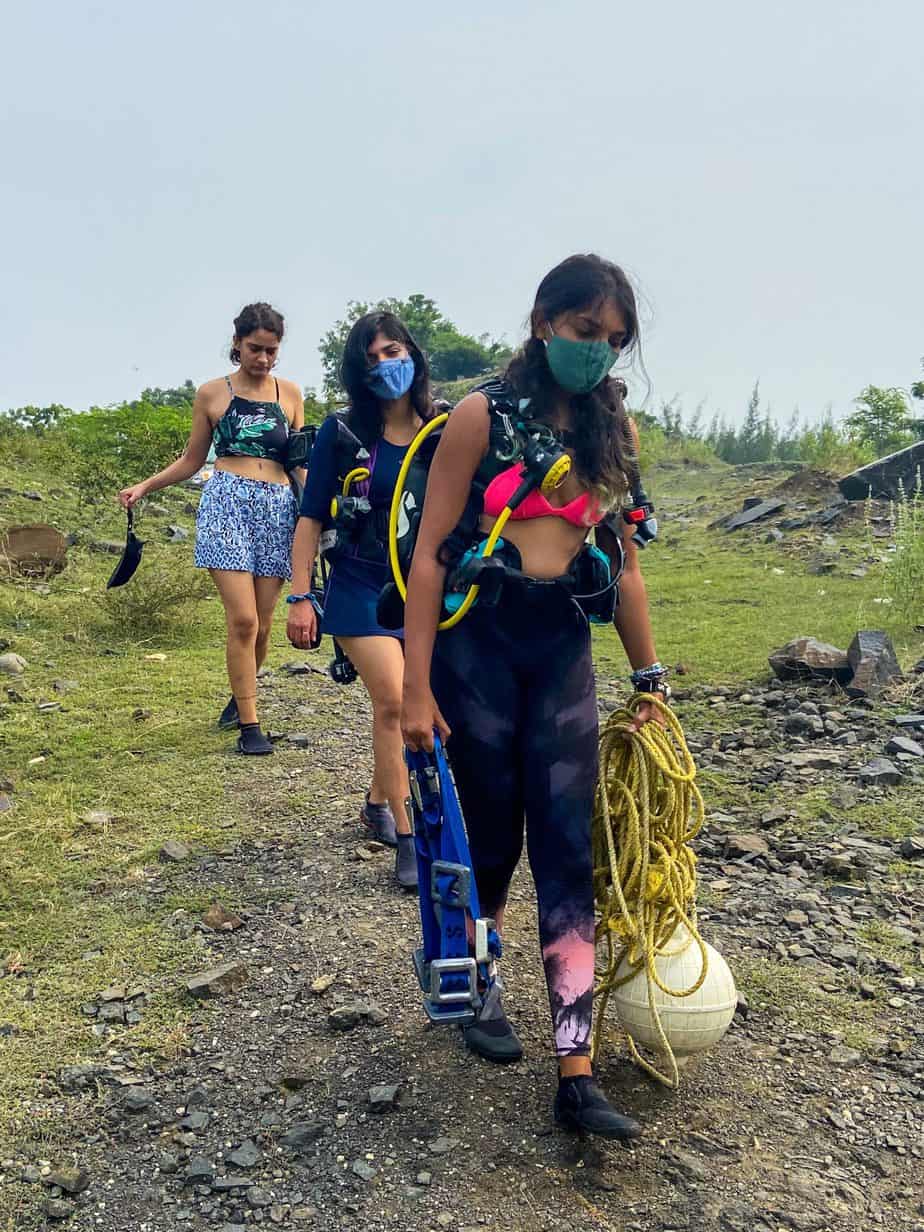 Disinfection
We disinfect the workplace with Phenyl solution daily. There are also many hand sanitizers of 70% or plus alcohol content at various locations.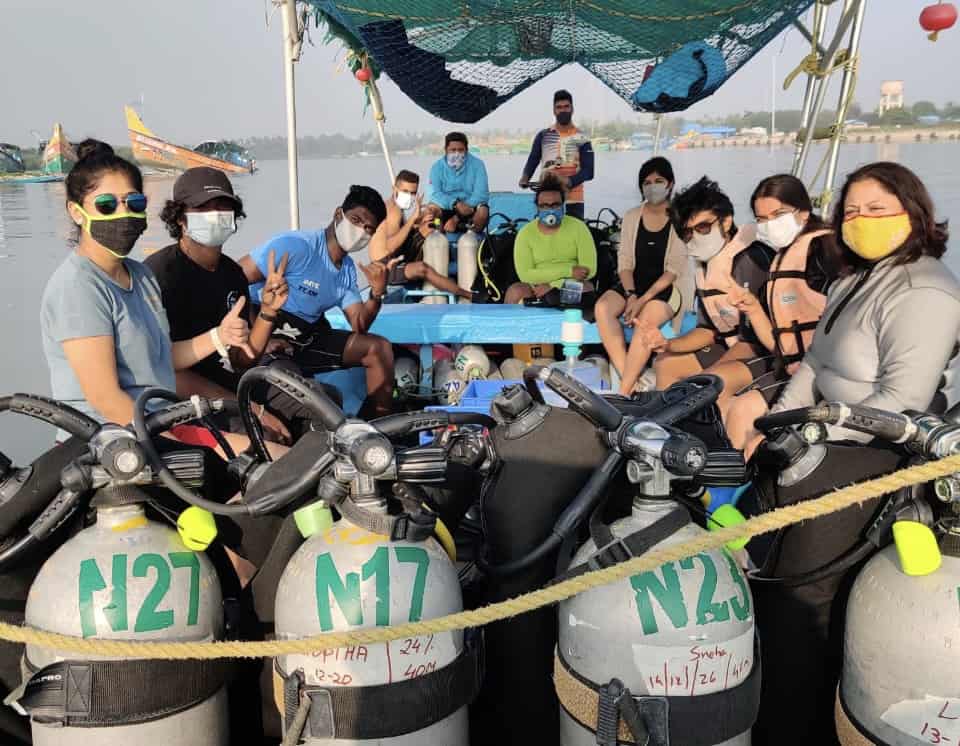 Medical Fitness
Up-to-date health screening is essential to go diving, especially now. At our end, we conduct temperature checks and look for any signs of common COVID19 symptoms when you visit. Taking the present circumstances into consideration, the RSTC have revised their medical questionnaire, so make sure to go through it. We also encourage people who have been unwell or show indications to consult a physician.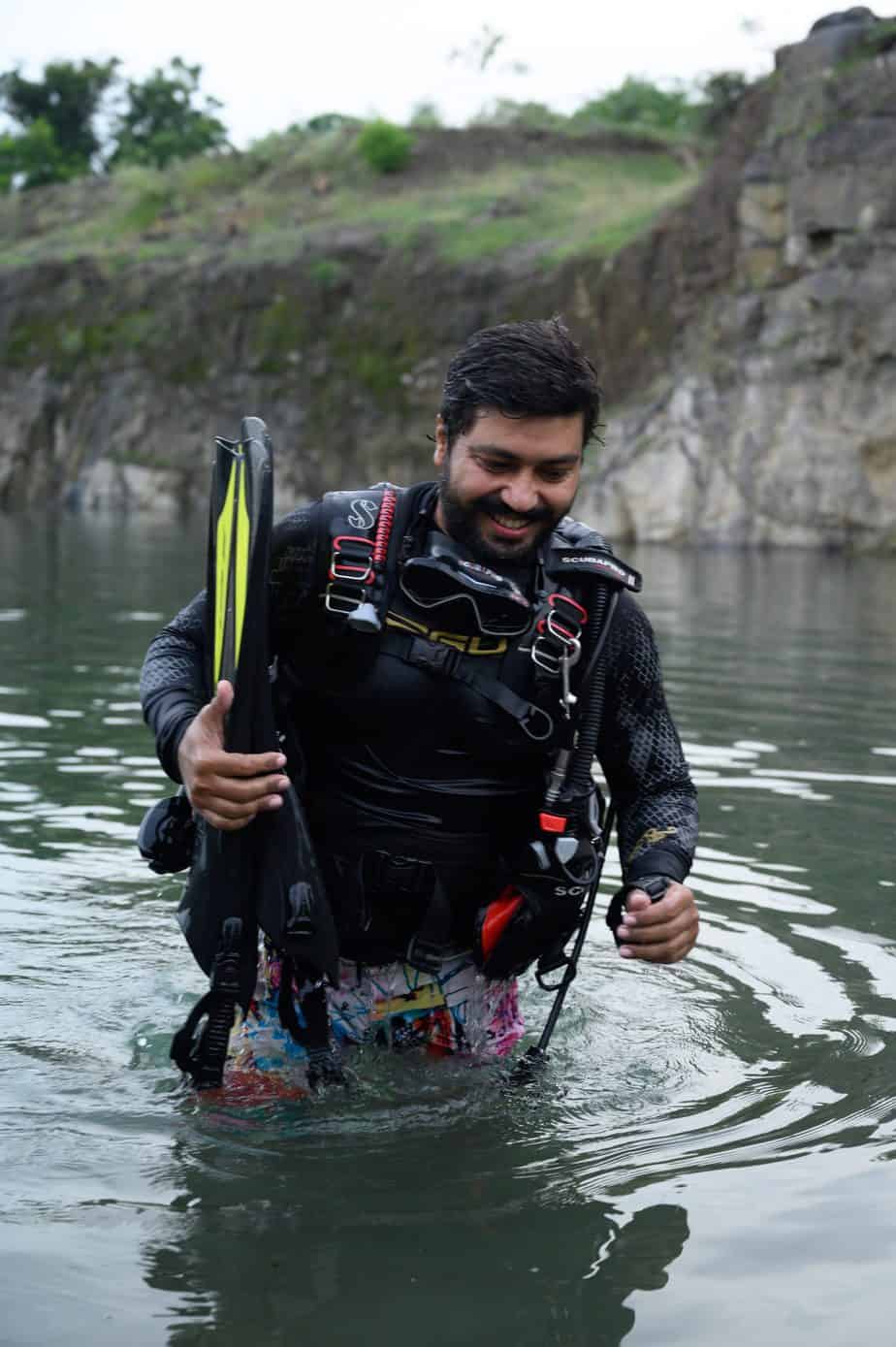 Equipment Care
Caring for the equipment is as important as any. We understand that and follow meticulous cleaning procedures for our equipment during this COVID19 period.
Regulators/ Masks
Are soaked in a 1% aqueous solution of Sodium Hypochlorite for 5 minutes.
Are rinsed using a distilled solution of Listerine mouth wash.
100% sterilized mouthpieces are provided for free for personal use.
BCDs
Are soaked and washed in a mixture of Dettol, Listerine and a 1% aqueous solution of Sodium Hypochlorite.
The LPI and bladder are washed with the same mixture.
Wetsuits
Are soaked and rinsed in diluted Dettol solution and dried.
2. Education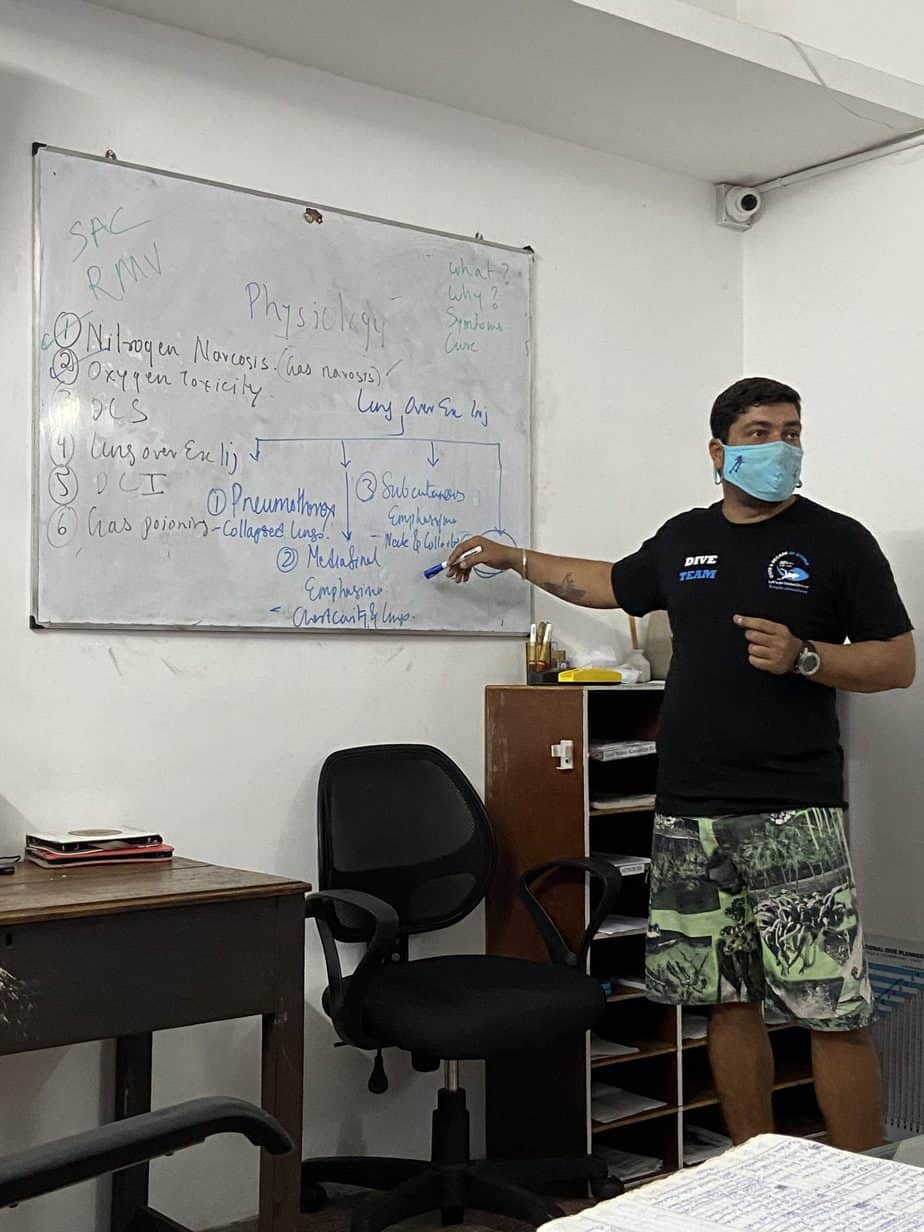 As always, the Temple team believes that education/ teaching is one of the best methods to impart the information and knowledge gained. So, we have developed the PADI Hygienic Diver Distinctive Diver Specialty Course to introduce the very important aspect of cleanliness involved in the diving operations, particularly equipment care and cleaning. Doing the course will not only improve one's hygienic treatment of diving gear but also spread awareness of basic sanitary practices present in diving.
You need just a day to finish this course and the best part is, you get to do it for free with any other course and get an added value!
3. Deals and Offers
Did you rub your lamp and wish for some amazing discounts or deals for diving? Because we have some cool ones, so your Genie worked wonders! The COVID19 lockdown deals and options give you a lot of flexibility, just send us a message to get great deals. Moreover, since travel might be restricted in certain areas, you can still prepare for diving by first signing up for a theory session for any course, by depositing just INR 4500! You will get all the theory materials and online training sessions with your instructor! Now is a great time to get a head start on your PADI Open Water Diver Course ! These are just a few standard deals, which means there is always more coming your way. Keep an eye out guys!
So fellow adventurists, you now know what goes into making your experience memorable, easier and safer scuba diving during the COVID 19 pandemic. From implementing stringent protective measures to offering deals, it's safe to say that we tailor-make and adapt to your needs. Reach out to us with your wishes without hesitation and we will try to accommodate you!
Cannot come down to Pondicherry? No problem! You can now scuba dive with us in Chennai as well.
Send us a message here to book your dives!