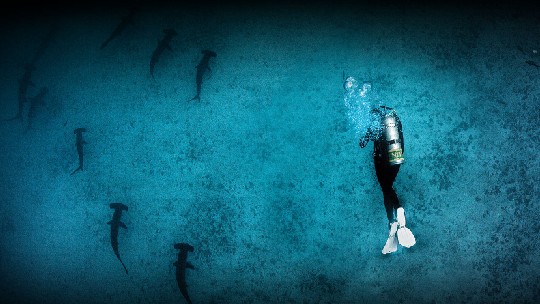 Akhil, a Master Scuba Instructor, as well as one of India's youngest
PADI Open Water
Instructors gets candid about his love for diving, and why he chose it to be his profession. He also discusses about how the PADI IDC helped him in becoming the able instructor he is right now. Detailed below is our conversation with him.
---
Akhil Jude (AJ): I started off as a DMT (Divemaster Trainee) At Goa Aquatics. After spending an entire season there under Nalin Trehan , Anindya (also my instructor at Goa Aquatics) got me a job at Ocean Pearl Dive Resort in Andamans. Anindya introduced me to Rob at Temple Adventures, after my season in the Andamans. From here it was just a steep climb up the PADI Pro levels. After happily working in this new and challenging environment, the first mainland IDC of India came along. Rob wanted me to be part of it, and then he, Mark and Temple sponsored my entire IDC helping me to become one of India's youngest PADI Open Water Scuba Instructor.
TA: When you started out your professional career as a DM, you were switching jobs across the country. How has becoming an instructor helped you personally as well as on a professional level?
AJ: Travelling and working across the country is a very interesting way to work. I got to experience some awesome cultures, making me more mature as a person. Meeting new people and making new friends helps one to be more humble and suddenly the world isn't such a bad place anymore. Also, these places helped me experience a wide variety of dive conditions, working conditions and logistics and the overall organization of a Dive centre. They all helped build a platform where I was able to stack my learning blocks on. The platform still needs tweaks and fixes and more reinforcements, but I am happy that I am getting there quite quick 🙂
TA: How do you think the PADI IDC has helped you?
AJ: A PADI IDC is a great course. It not only teaches you on how to base your approach to a learning student, but I do believe a lot of those approaches can be used while interacting with people around you as well. One very good thing about PADI is positive reinforcement. Appreciating a person's effort and applauding and providing encouragement to push past their current level goes a long way. Doing the PADI IDC, has improved my ability to deal with people. My teaching skills which were polished during that program gives me a lot of happy students. And happy students makes me happy 🙂
TA: Do you think anybody with a dream can achieve what you have at such a young age?
AJ: Anybody with a dream and a willingness to work hard. For me, the ones who work hard for the results and put time into learning and experiencing the diving world is who at the end get the most out of this career. To earn respect in this field is not easy. A lot of your actions can be easily judged. Being a humble, hard working and easy going person, ready to try out anything that comes at your way would make you into something that rarely breaks. I believe thats where everyone should look at. Performance requirement for any course or level means you have to be qualified. But would you want to be that person who just qualifies or would you want to be that person who's biggest rival is always you? Someone who yearns to go beyond your current self? I believe we all know the answer 🙂
TA:How do you think your current dive centre, Temple Adventures is, compared to the so many of them you have worked with earlier? What made you stay here?
AJ:
Temple Adventures is a very professional dive centre. The exposure I get from Temple is far more than the exposure I got from any other DCs. But I wouldn't say Temple is better than every other DC in the country. We have our strengths and so do they. One of the thing about Temple that really keeps me alive at work are the conditions. Pondicherry isn't the easiest place to dive. But not the dullest place either. It has a lot to offer. From very simple and easy shallow
dives
filled with fishes bigger than you, to demanding and challenging Tec dives. Then there's our team: Rob, Jonah, Julien, Aravind, Danny, Luke, Khush, Das, Sooshma, Jeni, Sheela, Sundari, Rosi, Eliza and the captains, Ravi, Desappan, Iyappan, Raja and they all work in such a way that the most difficult of the tasks just go through easy and professionally. The other thing would be the ability to work all year. I mean who wouldn't want to dive all year round? I do believe an off season for any Dive professional is the most boring part of his work. Luckily I don't have to go through that. The ease of climbing up the PADI levels over here is simpler compared to the other DCs around the country. I would love to go beyond any levels and get to the highest achievable level possible. And it seems like in India, Temple is the best bet for that. And don't forget Tinku 🙂
Also we sell all Scubapro and
Subgear
products. Being a master dealer in the country means a lot of added advantages. You can get hold of awesome gear just by stepping out of my room! Then you have the added advantage of having more technical knowledge about the gears we sell and use. Currently we have a new Service technicians program which is due this month! Being a PADI 5 star IDC gives us a lot of international exposure as well. We have high profile visitors from PADI every now and then. Being friends with a lot of them helps in getting more support from PADI and also expose you as an Instructor to the world as well. Pretty sweet deal if you ask me. The fun levels in the DC is always high. Anybody who has dived with us knows that. We are always happy to have a chat and laugh, although we could be stern when it comes to safety and standards. From the staff that organizes bookings to the Instructors, all happen to be a crazy bunch of fun loving people thats always around to have fun in times of need! 🙂